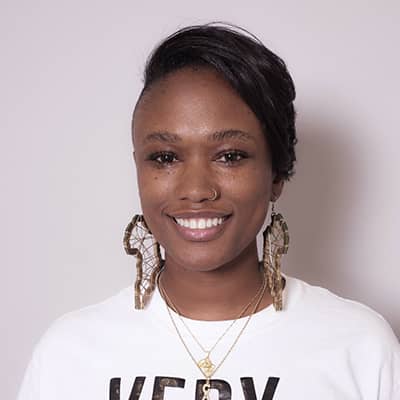 Cairo Person
Program Director – Oakland
Cairo Person is our Program Director in Oakland. Cairo is a multifaceted businesswoman and advocate. Her superpower is tapping into people's spirits when it pertains to their drive to work for themselves.
Cairo is a business owner herself. She co-founded We Re-Member, a non-profit that educates about the African Diaspora and the residual effects of chattel slavery. What makes her spirit leap when it comes to her business is that it started off as a small idea when she was a teenager. She and her co-founder were teenagers when this idea first came about. For them to now see it come to fruition from much dedication, effort, and hard work is rewarding. 
As a co-founder of a non-profit, she knows first-hand how isolating and difficult starting a business can be. She finds it necessary to share what she's learned along the way in growing her business with other entrepreneurs and help them establish connections and resources so we can all prosper.
Cairo was drawn to work with Uptima after her experience in our programs. She said, "I gained knowledge and so much wisdom while being part of the Uptima community that I wanted to be a part of it in another way. Uptima's mission and values are aligned with my own values and so working for Uptima aligned with my own purpose in my life."
Her top piece of advice for entrepreneurs is to tap into all areas of support and resources.